France tour log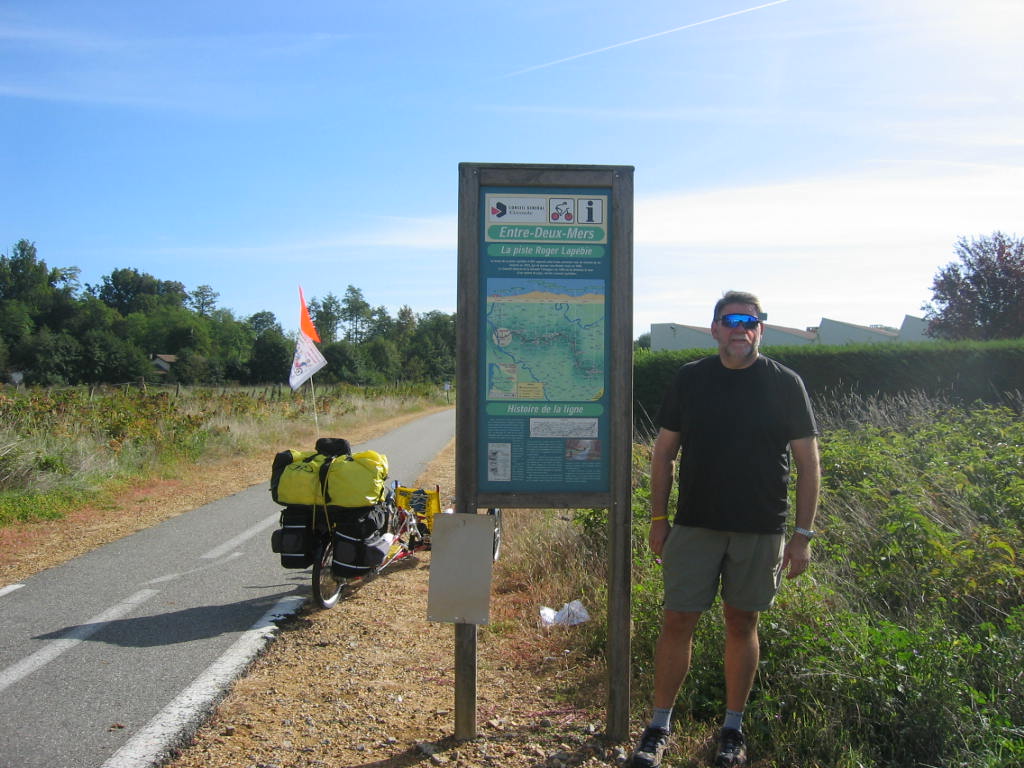 Saturday, 9/18 off to the airport - thanks Janet! Flight from San Antonio to Atlanta is fine. Air France flight to Paris is uneventful, thanks to Ambien. A minimal customs check in Paris, then the transfer to Bordeaux . We arrive in Bordeaux at 3 pm on Sunday and catch a taxi to our hotel (Hotel Tulip). After a dinner at a nearby bistro - fois gras, steak, and duck, we retire to bed.
Monday 9/19 Bordeaux to St. Emilion about 35 miles. Our bike computer has decided not to function, so we will be estimating distances for the rest of the trip - unless we buy a new computer.
The route out of Bordeaux follows an old rail line that has been converted to a bike trail - part of the trail passes through an old tunnel. We stop for lunch in a small town along the way, but except for a cold beer, the rest of lunch is forgetful.
The final 8 - 10 miles take us through vineyards and corn fields (corn for the ducks and geese that provide the fois gras). It's a beautiful day, capped by the lovely town of St. Emilion .
We find a room at a gite and explore the city. As we unload the bike, an American stops and asks "Were you at the hotel Tulip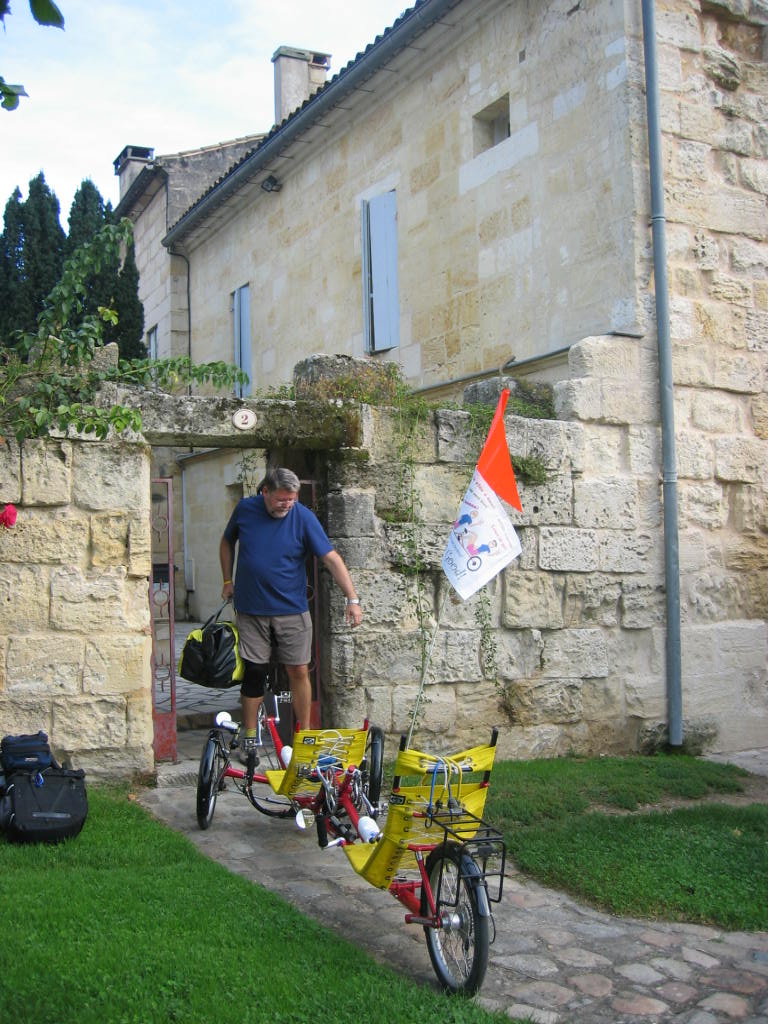 yesterday? We saw you putting the bike together.' This is the first of several encounters with fellow travelers.
Like many French hill towns, the streets are steep and narrow, but the town has a comfortable atmosphere. We have a glass of wine on the square, then decide on an early dinner at a pizzaria - with a carafe of the local red wine.
Tuesday 9/21 St Emilion to Bergerac - about 45 miles
The computer continues to operate erratically, and now the hub shifter is not working properly - we can't get into the lowest gear. This problem must be corrected before we get into the hills.
The day starts off nice, with temperatures around 60 and some sun, but the clouds roll in an we get occasional rain.
Once we arrive in Bergerac, we find a laundry and a bike shop. While Jayne visits the internet store, I do a bit of laundry The tourist office had suggested a bike shop, but they didn't have the part we needed. After completing the laundry, I headed off to find the internet store, and suddenly realize that there is a bike shop right across the plaza from our hotel! The bike shop has a replacement shifter, but the technician can't install the part, so it's back to the hotel garage to do the work.
We had noticed a couple of folding bikes parked in the garage, and while I'm installing the new shifter, we meet the travel bikes owners, Phil and Fiona, Brits who are finishing up a 2 week bike tour of the Bergerac area. They are great people and we end up sharing dinner with them.
Wednesday 9/22 Bergerac to Belves about 40 miles
It's market day in Bergerac, so we take a few minutes to stroll through the stalls and check out the wares. We are seen off by our new English friends Phil and Fiona. Our route today contains our first major climb... about 8 km long to the bastide town of Beaumont (note to self - if it's a bastide town, it's at the top of a very high, steep hill). We have a bit of lunch in Beaumont, then continue along the high ridge to Montpazier, where we meet an Australian couple who had seen us in both St. Emilion and Bergerac.
Eventually, we reach Belves. Though our hotel is not the best (ok, not quite a Motel 6), the city is a well-preserved example of a midevil walled city, with little of the touristy incursion seen in many old French towns.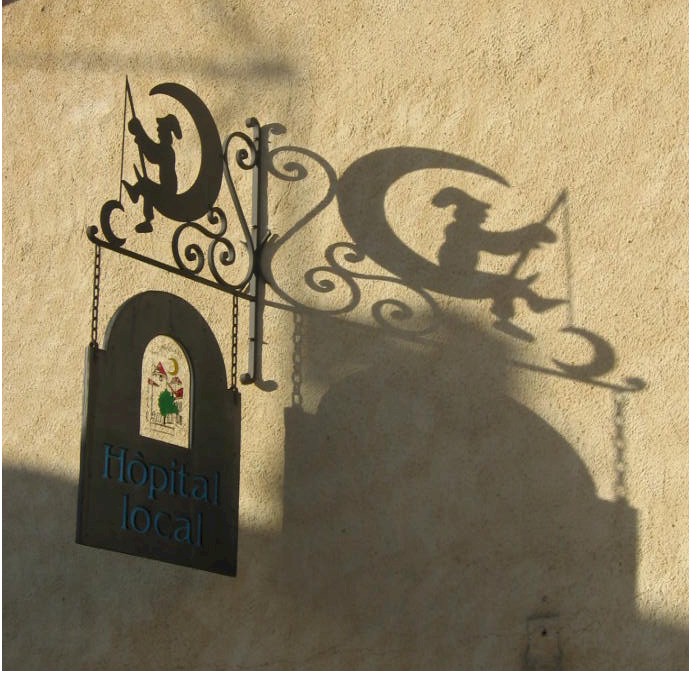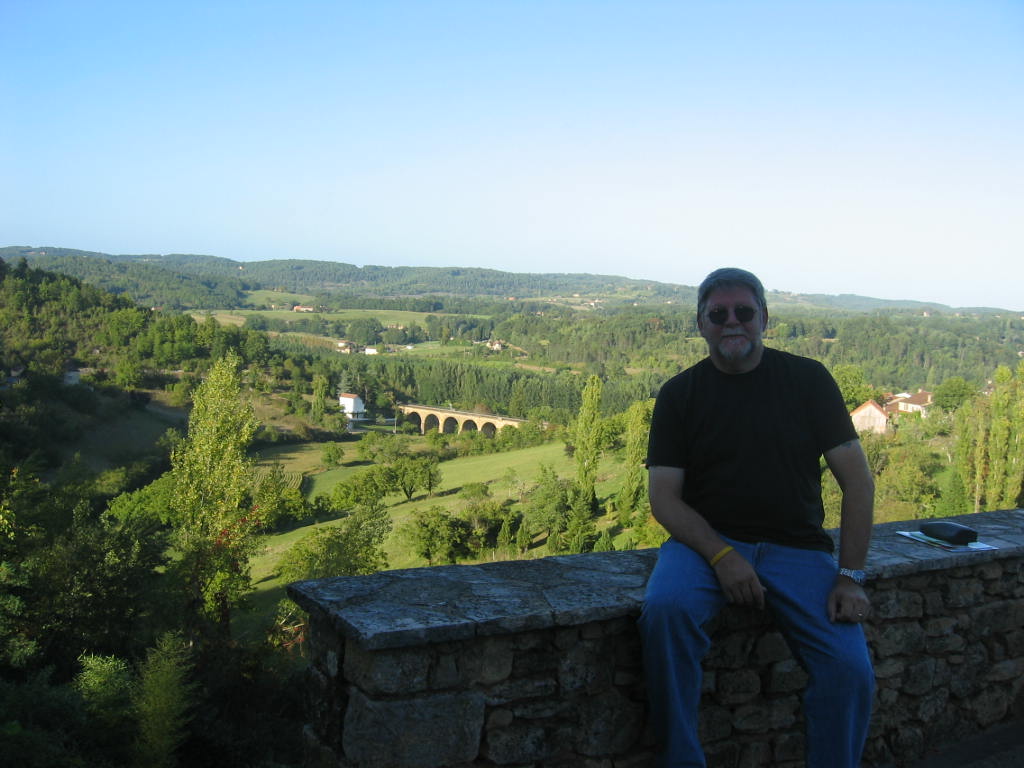 While in the tourist office, we run into an expatriate British woman who suggests that we have dinner at the Hotel Clement V. Though the owner, Ann, normally provides meals only for guests, she offers us her fixed menu for the evening, and we agree to return at 7:30.
Since we have a bit of time to kill, and don't care to spend it in our hotel room, we take a table on the square and have a glass of wine. Two older French women at the next table strike up a conversation with us, and we find that one of the women is the mother of Anne, the owner of the Hotel Clement. Though we have a language barrier, it is evident that she is proud of her daughter (though like many daughters, Ann is a bit embarrassed by her mother).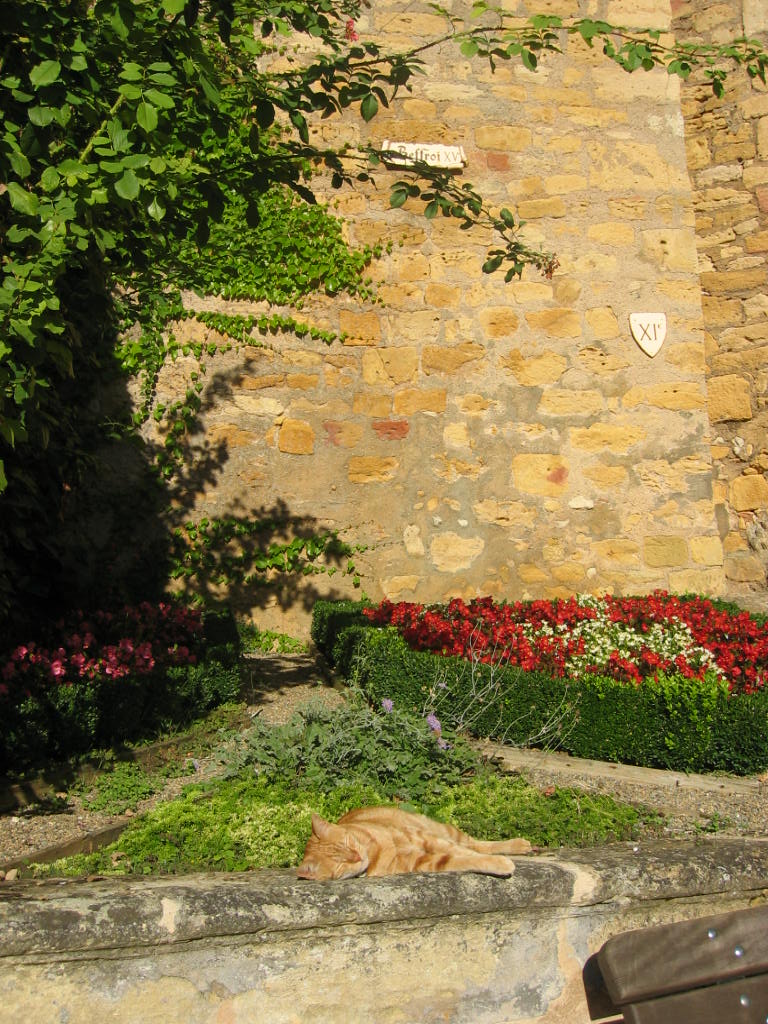 We have a wonderful dinner. Ann's menu is typical rustic French fare - chevre salad, a shepard's pie made with duck confit, and dessert, all washed down with a bottle of a local red bottled by a friend of Ann, and a local cognac. Anne offers us internet access and breakfast the next morning, for which we are grateful.
Thursday, 9/23 Belves to Motignac about 43 miles
In addition to breakfast and email access, Anne also helps us with hotel reservations for the next few days. After seeing her hotel, we wish we had stayed there!
Weather today is not very pleasant - low clouds and misting rain. We will not see the sun today.
There is a steep downhill from Belves to the Dordognne, followed by a long climb. We're hoping to visit the only cave containing prehistoric paintings that is still open to the public. We stop in a small town tourist office around 10 am to check on availability of a tour and are told that if we can arrive by 11 am, we could do the tour. Unfortunately, there is a small mountain between us and the cave, and we arrive at 11;15. Too bad, we are welcome to come back in the afternoon, but that does not meet our schedule.
There is one bright point to this day. As we pull up to the cave office, we spot a pair of recumbent tricycles in the parking area.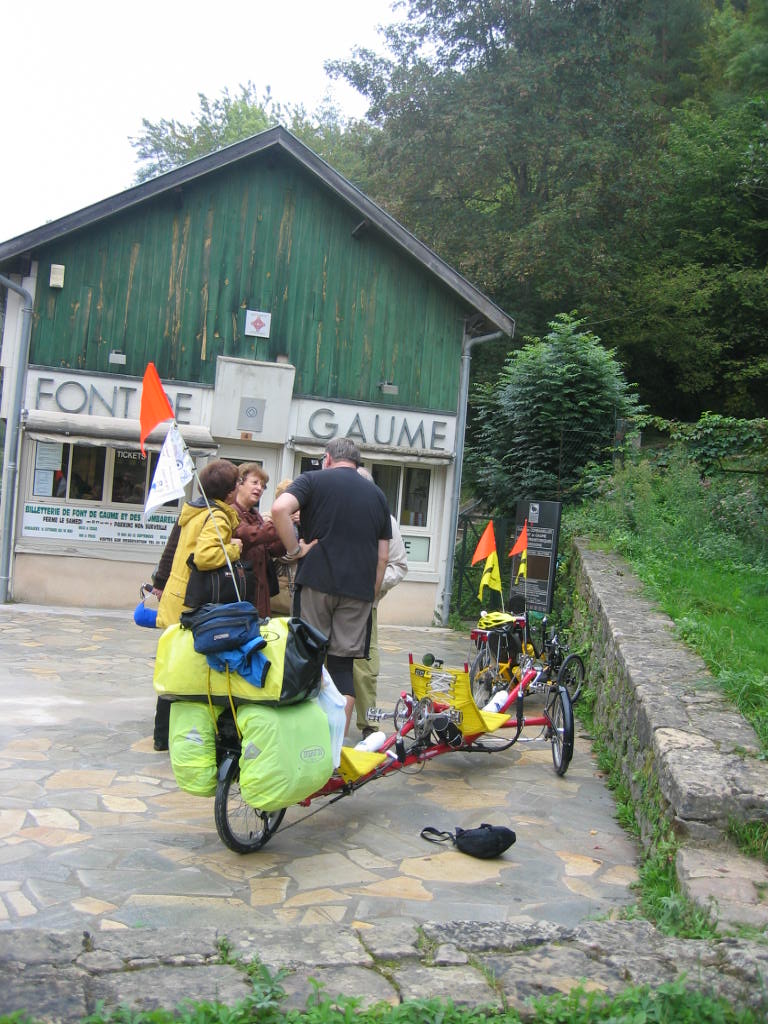 Even though we can't see the cave, we hang around and wait for the trike riders to appear. After a half hour or so, we meet David and Heloise, from Canberra, Australia. They are spending 6 weeks on a trike tour of France, enjoying their matched pair of Tri Sled trikes.
We end up having a light lunch with them and compare notes. We both use the Lonely Planet cycling guide to France (and both have carved out only the sections of the book we need for the trip), and frequent many of the same websites related to travel and recumbent tricycles. David and Heloise are on their way to Paris for a one week stay, so we bid them adieu and continue on our way.
Our lack of a proper lunch coupled with another hard climb causes Jayne to bonk, so we stop at a roadside snack bar. The limited menu doesn't help much, but since we only have another 10 miles or so to go, we push on. The only thing that helps is a long downhill that we hit after another mile long climb.
We arrive in Motignac in the afternoon, and Anne's hotel suggestion is a welcome respite. Finally, a room big enough move around! And with 2 towels! Each! After a long soak, we're ready for dinner.
Friday 9/24, Motignac to Sarlat
, 18 miles
We plan to visit Lascaux II, a reproduction of the famous Lascaux cave, which features prehistoric paintings. Though only about 3 km from our hotel, it is a continuous hard climb up to the site.
The cave reproduction is an amazing site and we are surprised at the sheer size of the paintings. Even though only a portion of the paintings are reproduced, the tour gives a fine overview of the art of our prehistoric forebearers.
Though we enjoy the fast downhill run from Lascaux, for every good downhill, there is a corresponding steep uphill. After a couple of hours grinding up the hills, we stop for lunch at a small hotel at the top of a hill. During lunch, the owner shows us a topographic map of our proposed route and makes a few suggestions to help us avoid the worse hills.
After seeing the amount of climbing facing us over our intended route, we begin to reconsider our options...
We arrive in Sarlat, fatigued from the day of climbs, only to find that our hotel (where we've planned to spend two nights) is at the top of a steep, 1 km climb. Though we have a nice room, and the restaurant serves a tasty dinner, we decide to move to a hotel closer to downtown for our second night.
Saturday 9/25, Sarlat
After breakfast, we coast down to town, secure a room at the Hotel de la Madeline, and head into the city to do some laundry and check our email. During the laundry stop we meet a group of cyclists from the U.S. who are doing a supported, guided tour of the same area (and paying as much for one person as our entire tour costs).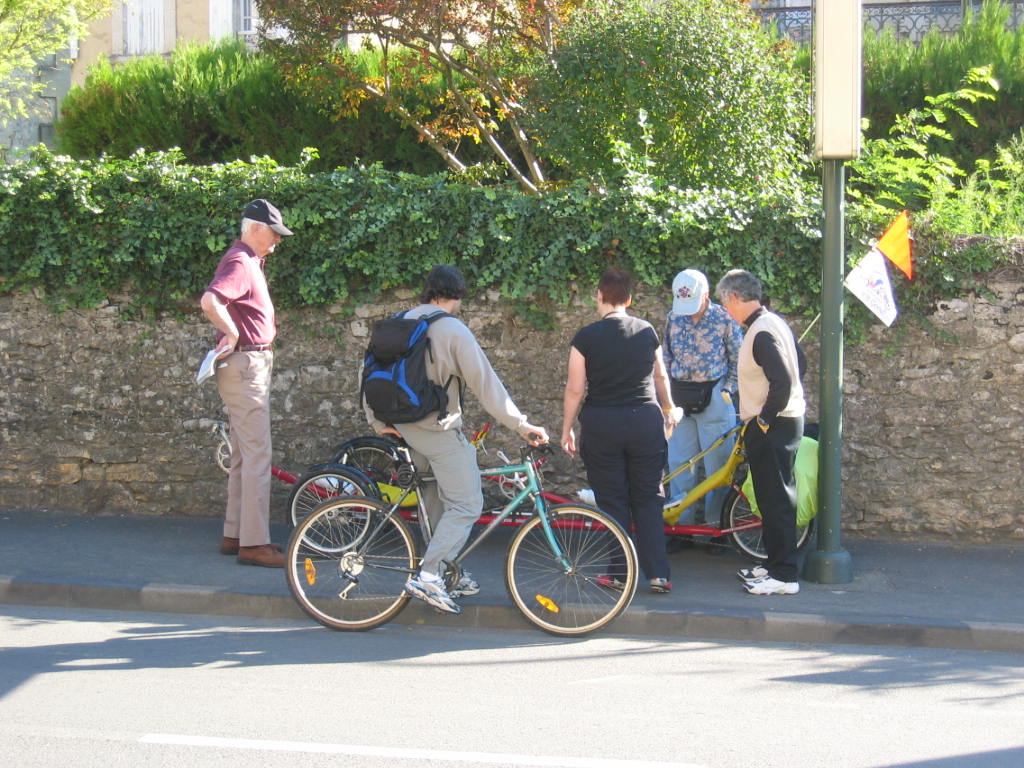 Saturday is market day in Sarlat. and we buy a few souvenirs and snacks. We also decide that we've had enough of the hills, so we make plans to return to Bordeaux and tour the flatter land of the Dordogne estuary, which contains some of the most famous wineries in the world.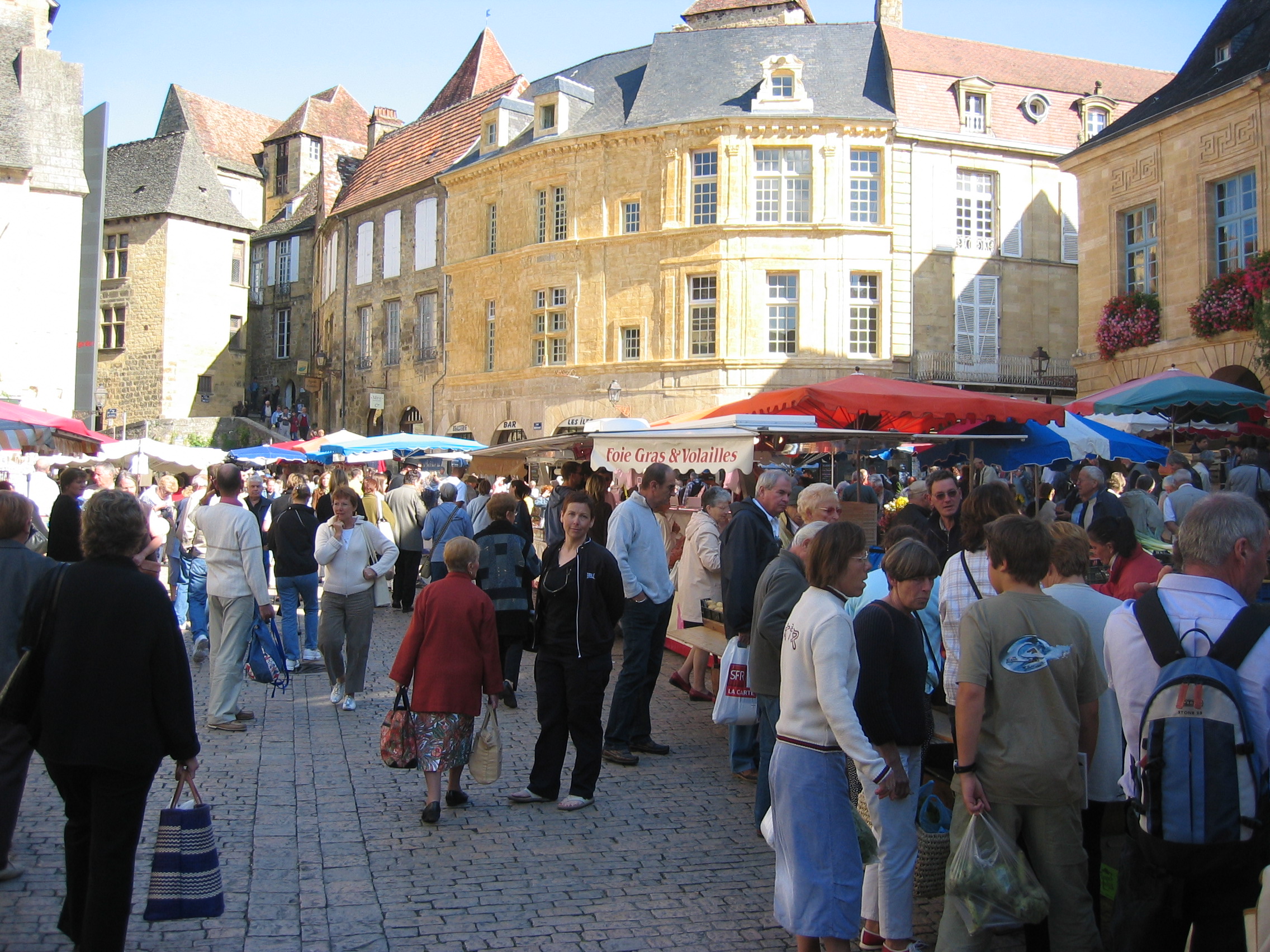 Sunday 9/26 Sarlat to Bordeaux, then on to Pauillac - 40 miles
Since only certain trains will accept bikes, we plan to return to Bordeaux on the 7:30 am TER train. Mistakenly thinking that the train station would be open, we depart the hotel before petite dejunnier and make a short ride to the train station, which of course, is not open. After about an hour, the station staff arrive and open up. We partially disassemble the bike and prepare to travel. After a 2 1/2 hour ride, we arrive in Bordeaux.
We assemble the bike in the train station, just outside the gendarme's office (who are amused at the odd vehicle). After a short stop back at the Hotel Tulip to drop off 10 - 15 lbs of excess gear, we have a snack at a cafe' while we wait for the Virgin Records superstore next door to open (the only downtown business open on Sundays, luckily, they carry both the maps and English language books we need for the rest of the trip).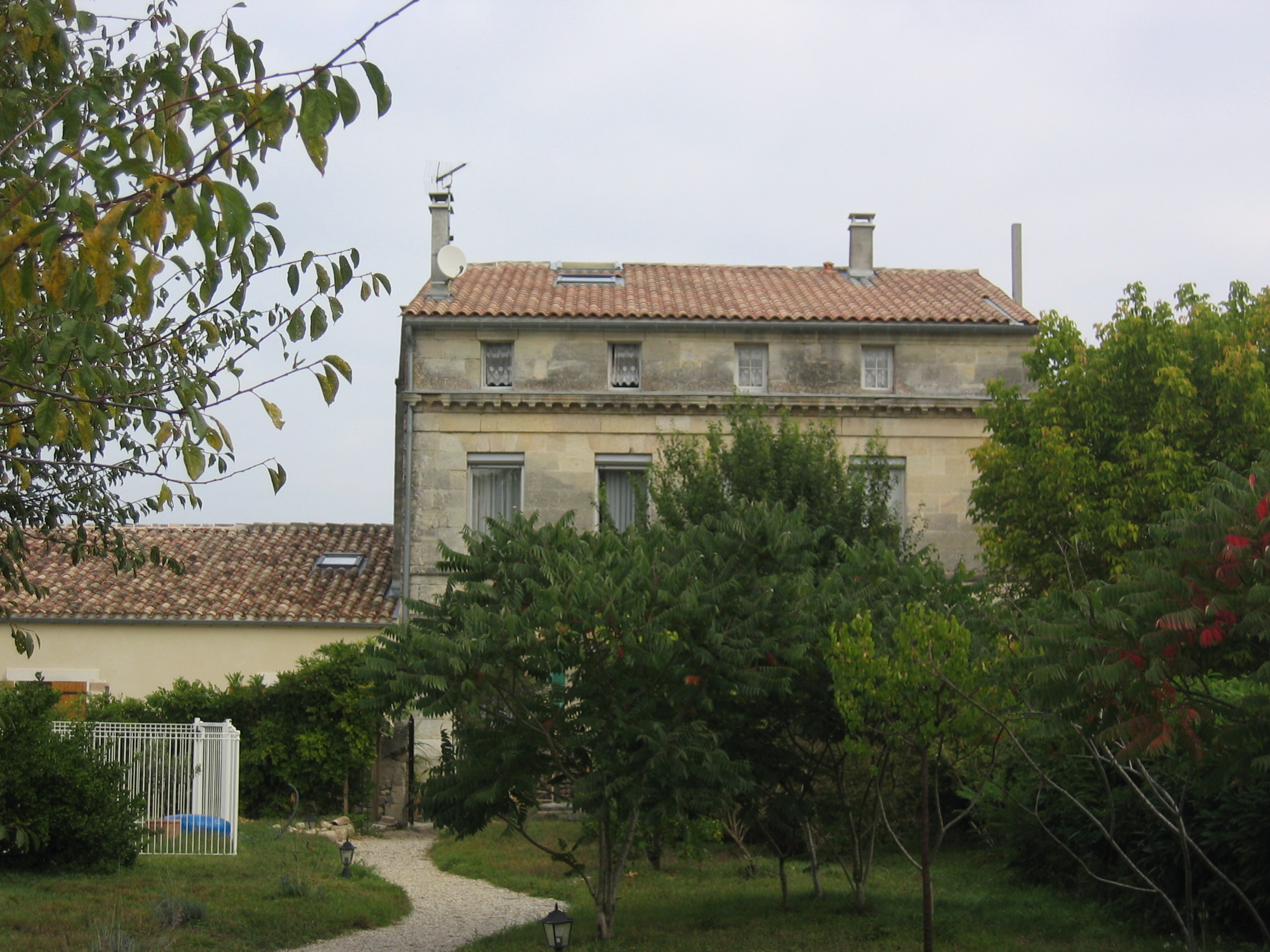 Just as we prepare to leave, the weather worsens to a heavy drizzle, prompting the donning of rain gear, which, in typical fashion, we will shed within a half hour.
Our route takes us through the vineyards of some of the most famous wineries in the world, including Chateau Margaux. Our legs enjoy the flatter terrain as we wend our way towards Pauillac. At Pauillac, we arrange a room at a B&B in a nearby suburb. Chambre de Hote Lou Bercail is operated by Dany and Patrick Hauselmann. Dany makes a dinner reservation for us and also arranges a tour at Chateau Mouton Rothschild and the next door Chateau Pinchon-Longville.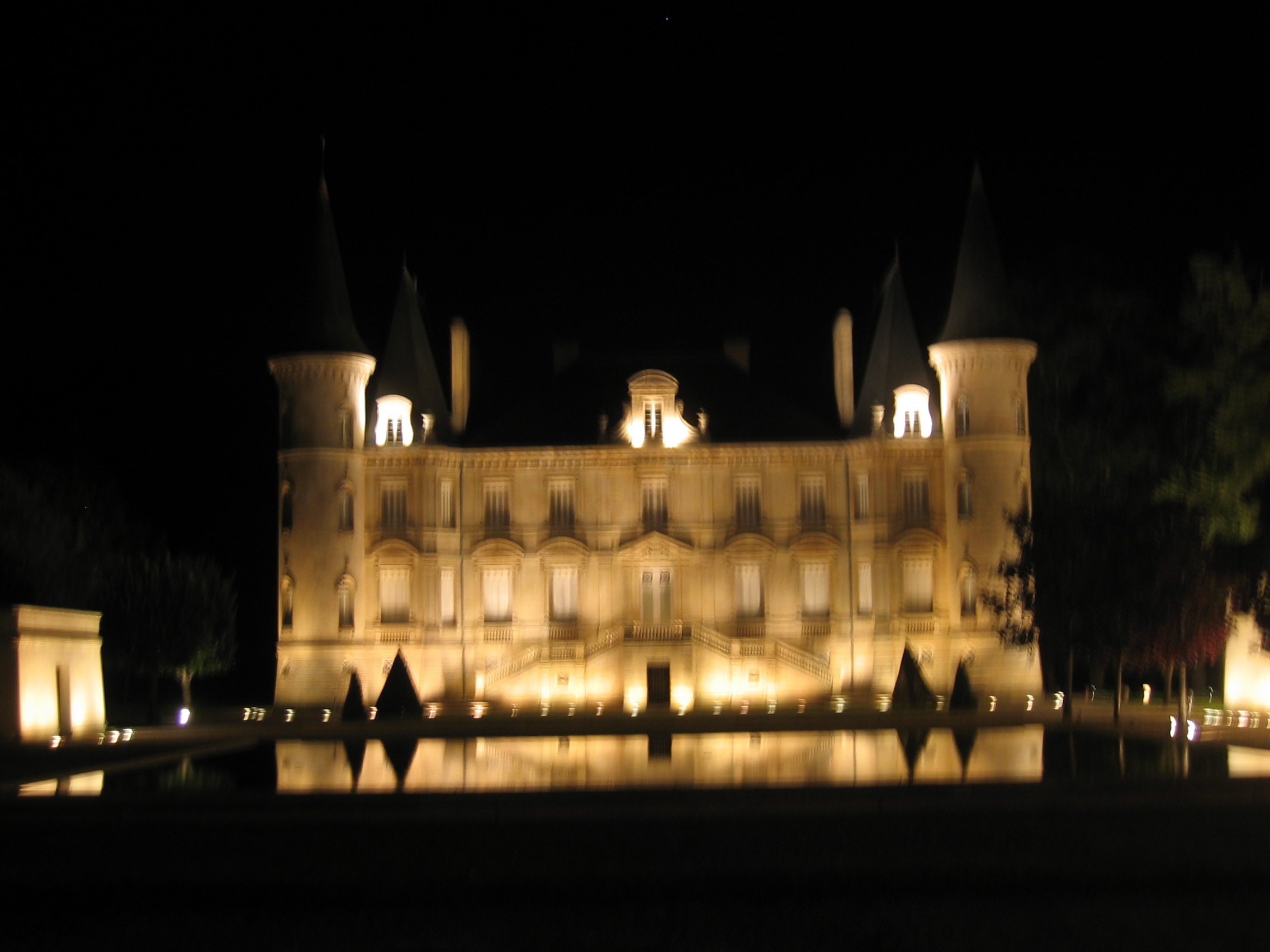 Monday 9/27, Pauillac - 12 miles
Today will be a day of wine. We start off with a short cycle through Pauillac to Chateau Mouton Rothschild, home of some of the world's most expensive wines. After a short film showing the history of the chateau, we tour the cellars and winemaking areas, ending with a visit to the wine museum, which contains wine-related artifacts from around the world.
Growing tired of French food, we have lunch in a Vietnamese restaurant, then drop off the bike at our chambre and take a short stroll through the vineyards to Chateau Pinchon-Longville. Though the tour here is similar to our morning tour, we get to see the freshly harvested grapes being hand sorted and end this tour with a tasting of two vintages. We purchase a bottle to accompany our evening meal.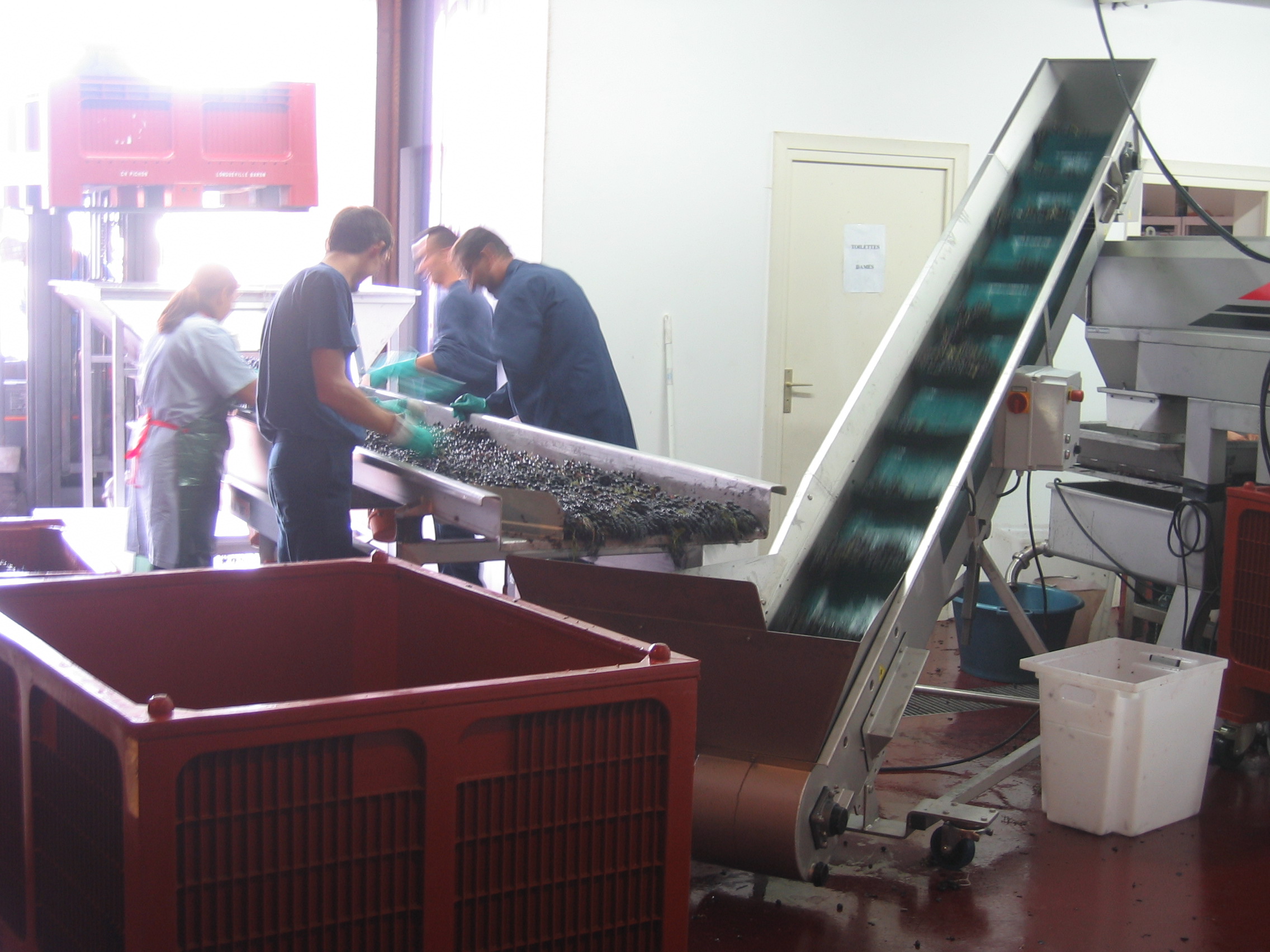 Chateau Pinchon-Longville
Since Dany has offered us the use of the chambre's barbeque, we make a run to the local supermarket and purchase an "American" dinner - steak and potatoes.
Tuesday 9/28, Pauillac to Talais - 38 miles
Following the Dordogne northward, we leave the vineyards, and pass small fishing villages and farms. There is a dearth of places to eat. Even the bakeries are closed. A few M&Ms tide us over until we chance upon a roadside bistro. Two nice English ladies help us communicate with the waitress, and we enjoy the 11 Euro daily special - soup, main course, dessert, and a carafe of the local red wine (which goes quite well with my choice of roast rabbit).
Our hotel is Talais is in the country, next to a horse farm. Though the restaurant is closed for the season, Dany has arranged dinner for us with the owners. We enjoy a simple country meal accompanied by a local wine.