Our First Greenspeed GTT Tandem Trike
Update: June 12, 2002
On June 8, the Susie and Debbie bought the trike and moved it to Amarillo, TX. It's new name is Tawanda...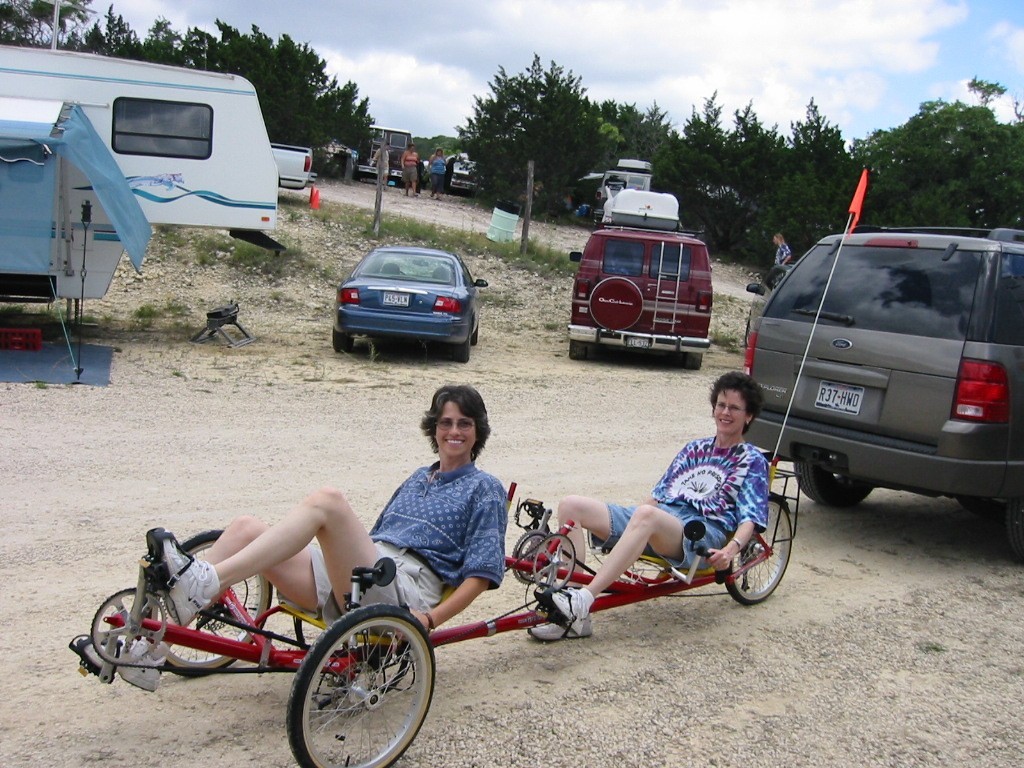 Susie and Debbie on Tawanda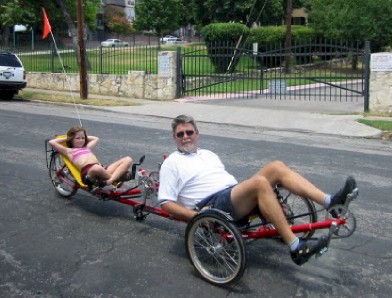 Kayla enjoys the ride!
August 10, 2001
OK, I must admit I must have been a bit insane this week...
During a business trip to Indiana, I made a side trip to scenic Crawfordsville, where Dave and Teresa Doty operate Valley Bikes. Their shop specializes in recumbents, and sells a lot of trikes. During a phone call, Dave had mentioned that he had a Greenspeed GTT tandem in stock, so I figured, "what the heck, I'm in the neighborhood. might as well take a look" .
Long story short - 30 minutes later, on Wednesday, August 8, we owned a new trike.
Of course, Dave might be a bit insane too...
Once the decision was made to buy the trike, then the question arises - "how do we get this thing home to Texas" - since it's around 11 1/2 feet long (though it does have special couplings that allow you to break it into two pieces, it's a bit big to put into your carry-on luggage).
Dave just happened to be in the process of packing up a Rans Screamer tandem for shipment to a couple in San Antonio and when he discovered that I was from San Antonio, he said "I love road trips - I can leave tonight".
On Thursday afternoon, Dan delivered the trike to our house and set it up (I didn't get home until Friday).
Here's Steve and Kayla on our first road test...